3 minute read
12th September 2021
Mile's For Mind has been a great success for our business and our teams are still really engaged with the concept - so here's looking forward to the next one!
Barney
MyOptique have entered a team into Miles For Mind over the past 3 years and we asked Ellen why they decided to get involved:
What made employees from MyOptique want to get involved in Miles For Mind?
The past few months have been challenging for everyone, both mentally and physically. We are now, more than ever, aware of the importance of physical activity and opening the conversation of mental health. Being involved in Miles For Mind, we encourage employees to go out and move regardless of their fitness level. Miles for Mind was inviting to everyone as they could choose their own targets!
At MyOptique Group, this has been our third year taking part in this challenge. It was more important than ever to lace up our walking boots and start that all-important conversation about mental health awareness.
How many people took part?
In total we had 50 people who took part and they pledged to cover 3,975 miles between them!
What was the feedback from those who took part?
During the event, a number of people struggled to get their miles in, especially with the weather in May being so dull and rainy. We asked people to share tips they found to help and to encourage others:
- There is no such thing as bad weather, just bad clothes. The bad weather is just another excuse not to go out and that does not help our mental health.
- Call a friend/ family member and have a chat while you go for a walk.
- Go straight from work, do not wait around, as you will get lazy.
- Go in the morning as part of your routine.
- Having to socially distance and isolate has been tough on everyone's mental health but getting outdoors can really help to remind us that life is still happening!
We got an overwhelming response from people at the end of the challenge to tell us how much they enjoyed it. Especially when they received their medal!
How do you think it benefitted those who took part?
It encouraged people to get out. Especially with the wet weather we had in May, it forced people to go out to clock up their miles. We also encouraged people to share tips, pictures along the way and how running/walking has helped their mental health in the past 12 months, which we shared to help others meet their targets.
What was the feedback from the management within MyOptique?
Barney Streeting (CEO) "Mile's For Mind has been a great success for our business and our teams are still really engaged with the concept - so here's looking forward to the next one! I think I managed to do 125 miles last time so maybe 200 miles will have to be the next target. Over the last few years, we have tried to encourage a diverse range of activities to improve the well-being of our teams. Pre pandemic we had a huge success in our Miles For Mind initiative, which helped kick-start a bit more of a focus on mental health as well as getting more active. However, it was not really until the pandemic took hold that we saw some of our teams struggle with a number of mental health issues directly and indirectly caused by the stresses and strains of the last 12+ months."
What plans do you have around exercise and mental health in the future?
As a business, we are aware how important mental and physical health is. We have a Wellness team who set up various activities such as a Yoga session in June, and currently we are involved in a Group wide collective challenge called International United hero's challenge to collectively walk or run a total of 400,000 km. We also have an app called Thrive, which is a mental wellbeing support service, which focuses on relaxation techniques such as meditation, thought training, sleep improvement and goal progress. We try to engage as many people as possible in our initiatives so try to keep a variety of activities to suit all interests!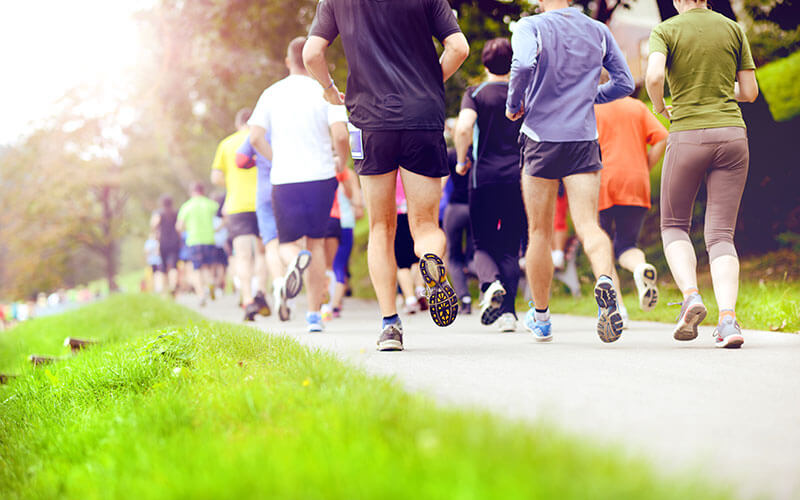 Thanks to Ellen and Barney at MyOptique who shared heir thoughts on getting employees involved in Miles For Mind. You can find out more about MyOptique by heading to their website.
If you would like to get your company or work colleagues involved in one of our virtual events, then all you need to do is head to our Events page and you can sign up in one easy step!
Team runr.
RELATED RUNR Merchandise
For each event we have some great event specific merchandise to bring the community together.