FAQs
Your questions, answered
Below we've tried to answer any questions you might have about one of our virtual runs.
A virtual run is one that can be undertaken absolutely anywhere and at anytime of your choosing. You simply track your miles via your fitness watch, phone, or pen and paper, and submit your results to us at the end of the challenge. We will send you a uniquely designed medal to mark the occasion.
Simply head over to our events page where you can view all of the upcoming events.
I'm resident outside of the UK - am I eligible to take part?
Absolutely. The nature of a virtual run means you can take part from anywhere in the world. In order to get your medal to you, upon signing up, we will charge an additional £4 to cover postage overseas.
Do I have to run every mile?
We want everyone to be active and feel included, so whether that's walking or running, they all count towards your target.
Am I fit enough to sign up for a virtual event?
It is the sole responsibility of yourself to be sure that you are fit and capable enough to sign up and compete in our virtual event.
Please speak with your GP to discuss any medical conditions you are concerned about.
You acknowledge that you are taking part in Miles For Mind at your own risk and agree to waive any liability against the organisers for any injury, illness, loss or damage as a result of participation.
No, a virtual event is not a race. It is a challenge that you set yourself and you are simply trying to complete that challenge for your own benefit.
We will be online supporting & inspiring the running community throughout, but it is not a race against anyone.
Is this a 'run every day' challenge?
You can clock up as many miles as you are comfortable to do, and you can run on however many days that fit in with your lifestyle and fitness levels.
You do not need to run every day to complete the challenge, although if you wish to do so.... let us know on social media and we'll be supporting you on your journey!
Once you have completed your miles for any of our events, head to View Profile > Select the event you wish to submit for > Click on Submit results in the Event Details section.
What if I fail to hit my target for the month?
Worry not. Regardless of how many miles you end up clocking up, if you're short of your challenge distance, we will donate you some miles from other peoples totals to ensure that everyone who signs up to our events receives a medal.
Is my entrant transferable or refundable?
If for some reason you cannot take part in an event that you have signed up to, please get in touch with us and we'll do what we can to move you to another event!
How do I create or join a team?
To create or join a team, head to Manage Profile > Edit Profile > Scroll down to My Team > then search fora team to join, or create your very own team!
When will I receive my medal?
Once the event has come to an end, we'll be busy compiling the results and then start the task of sending each medal out. as soon as possible!
How do I change my target?
If you need to change your target for any reason, you can do so by heading to View Profile > Select the event in Event Entries > clicking on Change Target.
You can also switch between KM and Miles. Simply log in to your profile and head to Edit Profile, then scroll down to the Running Details section where you can change between KM and miles.
If I sign up after the 1st of the month, will my previous runs count?
If you sign up after the 1st of the month of the challenge, any activities that you have completed between the 1st and the date you sign up will automatically be backdated via your chosen method of Strava/Garmin/Fitbit. If you are manually uploading your activities, you can upload any activities you completed since the 1st which will all go towards your total.
How do I record my miles during the month?
If you have a Strava, Garmin or Fitbit, you can link your device up to your profile page and each activity you complete will be pulled through and added to your account.
To do this, head to View Profile > Edit Profile > scroll down to Activity Tracking and select your preferred device.
If you don't have either of these accounts, you can manually upload your activities. Simply head to Manage Profile > My Events > Select the event > under target Distance, click on Add Activity.
Why don't I appear on my team?
To appear in a team, you need to make sure that your account is public in order for others to see your progress.
Making your account is easy - Head to Manage Profile > Edit Profile > scroll to the bottom to Privacy & Account Preferences and make sure the box has a tick in it!
How do I upload activities and submit results for a child?
If you have signed a child up to any of our events, you can upload their activities manually and also submit their results once they have completed the event.
To upload their activities, head to Manage Profile > My Children > Select your child > Select Child's Events > Select current event > Then either Add Activity or click on Submit Results.
How do I fundraise during an event?
We've made fundraising really simple and it links nicely through to justGiving.
To set a fundraising target, head to Manage Profile > My Events and select the event you would to fundraise for. On your Event Bio you can choose to start fundraising by clicking on the button Start Fundraising and set yourself a target.
To share your fundraising page, simply click on Share This Page as shown in the image below. You can then paste the link into an email, a social media post, or share it on a message to friends or family for them to sponsor you.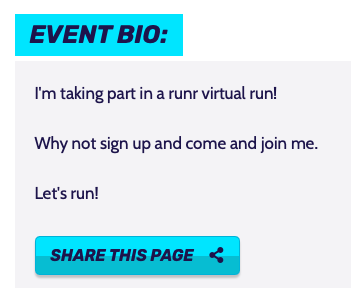 You have the opportunity to link up your Garmin, Strava or FitBit which will then pull through each of your activities throughout the month. You'll then be able to see how you are doing vs your target!
To add your device, head to Manage Profile, Edit Profile, scroll down to Activity Tracking and select the device you wish to link.